It's been four years since we built the world's most innovative face mask. What started as a mere concept has now taken over the world. A kiwi startup that has been researching and producing fashionable face masks since before the pandemic, MEO Air has stayed faithful to its aim of contributing towards a healthier world. 
A journey that started with our flagship reusable refilter has since evolved into face masks, disposable masks, masks for kids, custom-made masks like the one designed for the Public Water Project. Our masks, made of the finest quality, are backed by science and research. Recognising a gap in the market for fashionable yet effective face masks, MEO masks have since taken over the world.
MEO maskers around the world believe in the safety and security provided by us. Global fashion icons and celebrities have been spotted wearing our masks. Check out some fashionistas styling it up in their MEO masks.
Former Miss Dubai, international media personality Megan Pormer showing off her MEO mask
Vanessa Coppes, CEO, BELLA Media + Co., all styled up in her checkered MEO mask.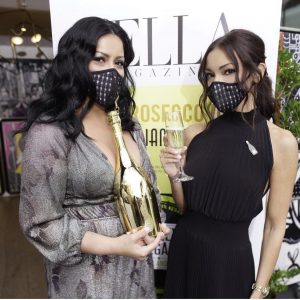 Did you know that we were featured in the fashion powerhouse, The Daily Front Row?
MEO mask worn by the gorgeous Mrs. Naito, a 71-year-old style icon
Last but not the least, the crew of the Netflix series Dear White People keeping themselves safe with MEO Stitch/ Shadow and Checker face masks